Greetings friends of steemit.
Today is a very special day!.
My youngest princess, Cami, is celebrating her 2 years of life.
Time goes by so fast, I remember as if it were yesterday, the days when we decided to have another baby …
Our eldest daughter, Kathe, always asked us for another little sister … She said that all her little friends had brothers … and that she did NOT … that she wanted a little sister to play and share.
So … one day my husband and I decided that if we would give him a little brother …
We talked to her about the jealousy and care that a baby required and she was very happy … she told us that if she would take care of her little sister and she would not be jealous. (Well this part has been difficult hahaha because she is now very jealous).
The day came to go to the doctor to confirm if there was a little brother on the way … so Kathe did not sleep waiting for dawn to go with us to the doctor … It was time for the consultation and we were really pregnant !!! Kethe was very happy, on the way he told everyone that he was happy because he would have a little sister …
The days went by, and Kathe always talked to her little sister in the belly … They already had a beautiful connection because when Ketha spoke to her, Cami moved in her belly.
THE BIG DAY HAS ARRIVED…
It was that great day … September 23, 2016 … Kathe was counting the days … I was very excited … and of course, my husband and I … The time has come … and finally our beautiful princess Cami was born …
What great joy it feels, when the Doctor shows you your baby, just born !! … is a unique and inexplicable experience, the words fall short … it is something so profound and unforgettable … Today I remember that day as if it were yesterday. ..
Our Cami is very happy, and very energetic hahaha … Totally different from her older sister Kathe … Kathe was very quiet since she was in the belly … but Cami …. God!! Hahaha she is very, very active … I lie exhausted every night, but that is a sign that she is a healthy girl.
Cami is very intelligent, witty, funny, makes us laugh a lot …
I give God s grace every day for my beautiful princesses …
And today … thank you very much for the 2nd year of my Cami's life … May God continue to give my princess a lot of life and health!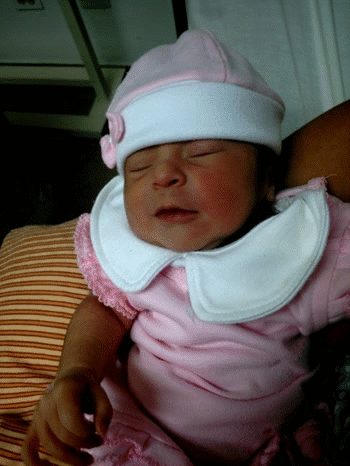 HAPPY BIRTHDAY MY CAMI … GOD BLESS YOU