Romans 16:26
… and now manifested and revealed among all peoples through the prophetic Scriptures, in accordance with the commandment of the eternal God, to induce them to the obedience of faith.
We all come to faith through a condition of unbelief and before reaching perfect faith, we went through several stages, as happened with Abraham, who gradually grew in faith.
The way of faith realized by Abraham is examined, which, from partial obedience, came to perfect obedience because he had achieved perfect faith. Perfect obedience is the only thing that allows us to enter into glory, that is, into the atmosphere of perfection in which God lives. Examining the life of faith of Abraham leads us to reflect and realize the level of faith we have reached.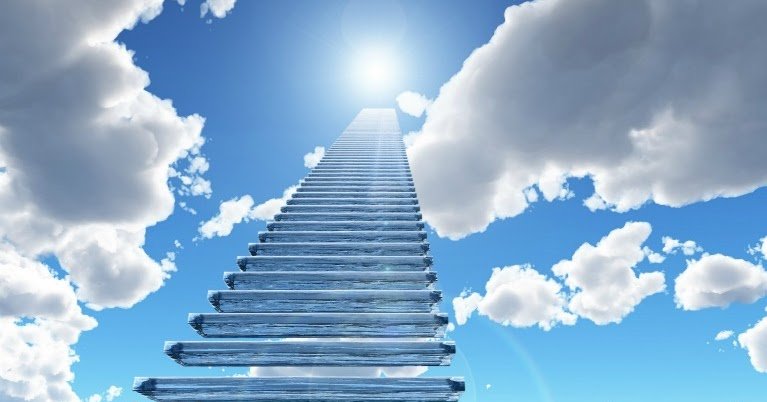 Source
Hebrews 11: 8-13 
8 By faith Abraham, being called, obeyed to go out to the place he was to receive as an inheritance; and he left without knowing where he was going. 9 By faith he dwelt as a stranger in the land of promise, as in a foreign land, dwelling in tents with Isaac and Jacob, co-heirs of the same promise, 10 because he expected the city that has foundations, whose architect and builder is God.11 By faith also Sarah herself, being sterile, received strength to conceive; and she gave birth even outside the time of age, because she believed that it was faithful who had promised. 12 Therefore, also, from one, and that one almost dead, they came out as the stars of heaven in multitude, and as the sand innumerable that is on the seashore.13 According to the faith all these died without having received the promises, but looking at them from afar, and believing and greeting them, and confessing that they were foreigners and pilgrims on earth.
Abraham obeyed God's command and left his land without knowing what his destiny would be. He lived for a long time where God led him and, along with his son Isaac and his nephew Jacob, who at that time was a teenager, received a generational blessing. He was around one hundred years old when Isaac was born and Sara was nine years younger than him. He is considered the father of all believers, that is, of all those who have faith in the value of Jesus' sacrifice.
TYPES OF FAITH
Circumstantial faith:
It is a limited and vacillating faith, conditioned by the circumstances and by what we perceive with the natural senses; it is a faith that in the presence of negative circumstances leads to doubt in the Word of God. This was the faith of Thomas.
John 20:25
So the other disciples told him: We have seen the Lord. He said to them, «If I do not see the mark of the nails in their hands, and put my finger in the place of the nails, and put my hand into their side, I will not believe.»
Temporal Faith:
It is a faith that lasts only a while, until the first difficulties come.
Luke 8:13
Those on the stone are those who, having heard, receive the word with joy; but these have no roots; they believe for some time, and at the time of the test they depart.
Active Faith:
It does not just believe, but leads to act according to the beliefs we have.
James 2: 14-26
My brethren, what will it profit if someone says that he has faith, and has no works? Can faith save him?
Strong faith:
It is the faith of those who do not resign themselves to defeat and believe with conviction in the victory that Jesus Christ has already achieved.
Philippians 4:13
I can do everything in Christ who strengthens me.
Great faith:
What Jesus found in the centurion of Capernaum, who believed that a single word spoken by him would heal his servant.
Matthew 8:10
When Jesus heard it, he marveled, and said to those who followed him, «Assuredly, I say to you, not even in Israel have I found so much faith.
Genuine and faithful faith:
It is the faith of someone who believes as an innocent child and blindly trusts the Word of God. It is the kind of faith of Timothy, to whom his mother and grandmother had transmitted it.
2 Timothy 1: 5
bringing to mind the unfeigned faith that is in you, which lived first in your grandmother Loida, and in your mother Eunice, and I am sure that in you too.
Perfect or divine faith:
It is the same faith of God that is given to us in the heart. It consists in an absolute trust in the Word of God, in its integrity, in its character.
Hebrews 11: 1
It is, then, faith the certainty of what is expected, the conviction of what is not seen.
To reach a perfect faith there is a way to go. Reaching this level involves overcoming the trials to which God subjects us on our journey. Sometimes we can find ourselves in the presence of extreme trials that we must overcome alone, but the first thing we must do is grow obedience, because perfect faith is achieved through perfect obedience, but no one should be ashamed to have a small initial faith because God blesses each stage of the growth of our faith; The important thing, however, is that it grows.
Matthew 17:20
Jesus said to them: Because of your little faith; For verily I say unto you, That if ye have faith as a mustard seed, say to this mountain, Get thee hence out of the way, and it will pass away; and nothing will be impossible for you.