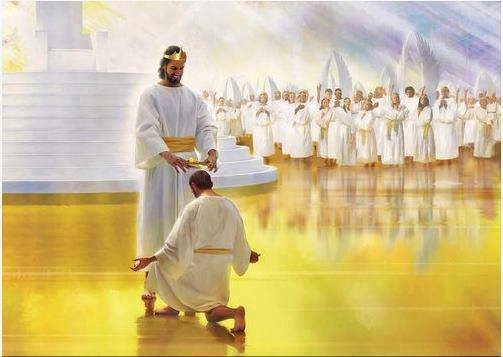 Source
It is important for us believers to learn to see ourselves as God sees us, because this changes our approach to life. In Christ we are kings and queens and it is for this reason that we can and should reign in life.
Exodus 19: 6
And you will be for me a kingdom of priests and a holy nation. These are the words you will say to the children of Israel.
As kings and queens, if we want to reign, we must learn to speak according to the language of the Word of God: we must speak as kings and not as victims.
Joshua 1: 8
This book of the law shall not depart from your mouth, but you shall meditate on it day and night, so that you may keep and do according to all that is written in it; for then you will prosper your way, and everything will turn out well for you.
God wants kings and priests who have intimacy with him.
1 Peter 2: 5
You too, like living stones, are built to be a spiritual home, a holy priesthood, to offer spiritual sacrifices, to please God through Jesus Christ …
1  Peter 2: 9
But you are a chosen race, a royal priesthood, a holy nation, a people acquired by God, so that you may proclaim the virtues of him who called you out of darkness into his marvelous light;
We are here on earth to proclaim His wonders and God calls us to worship and reign: To be priests to worship, and to be kings to reign.
Romans 5:17
Because if by the transgression of that one death has reigned because of him, much more those who receive the abundance of grace and the gift of justice will reign in life through him, who is Jesus Christ.
The abundance of grace is the gift of God. Grace is always greater than our need, because it is abundant. We must reign in life through the abundance of grace and justice that has been given to us through Jesus Christ. God has given us all the things that belong to life and for this reason we can reign over all things.
The Bible says that we should reign as king in life. We must reign over sin, sickness, poverty, defeat, depression and the devil.
2 Peter 1: 3
Because his divine power has given us all the things that belong to life and piety, through the knowledge of who has called us through his glory and virtue.
Only when we understand who we are, that is, righteous in Christ Jesus, can we truly reign. The power to reign is based entirely on receiving all that Jesus has done for us on the cross! To reign we must be able to receive! When we receive what Jesus did on the cross, we are blessed every day of our lives and we realize that we are victorious in Christ.
We are destined to reign in life as kings and queens, and to have kingship over all the challenges of life. All the circumstances of life serve to demonstrate authority, to show who we are. It is not circumstances that must govern our lives, but rather we who must reign over them!