Uncategorized
[Esp-Eng] El Artísta más pequeño de la familia. / The smallest artist in the family.
Saludos amigos de steemit.
Greetings steemit friends.
Hoy mi hermana me envió fotos del nacimiento viviente que hicieron en la guardería donde cuidan a mi sobrino. Fue hermoso ver, que lo escogieron para hacer el papel del niño Jesús.
Today my sister sent me photos of the living birth they did in the nursery where they take care of my nephew. It was beautiful to see that they chose him to play the role of the baby Jesus.
Mi sobrino tiene un año y 4 meses de edad. Y solo lo conozco en fotos vía whatsapp. Mi hermana tuvo que irse del país cuando tenía 3 meses de embarazo porque aquí ya la situación estaba dificil, especialmente para las embarazadas y los recien nacidos. Ella se fue a Perú, donde gracias a Dios le ha ido bien.
My nephew is one year and 4 months old. And I only know it in photos via whatsapp. My sister had to leave the country when she was 3 months pregnant because here the situation was difficult, especially for pregnant women and newborns. She went to Peru, where thank God she is well.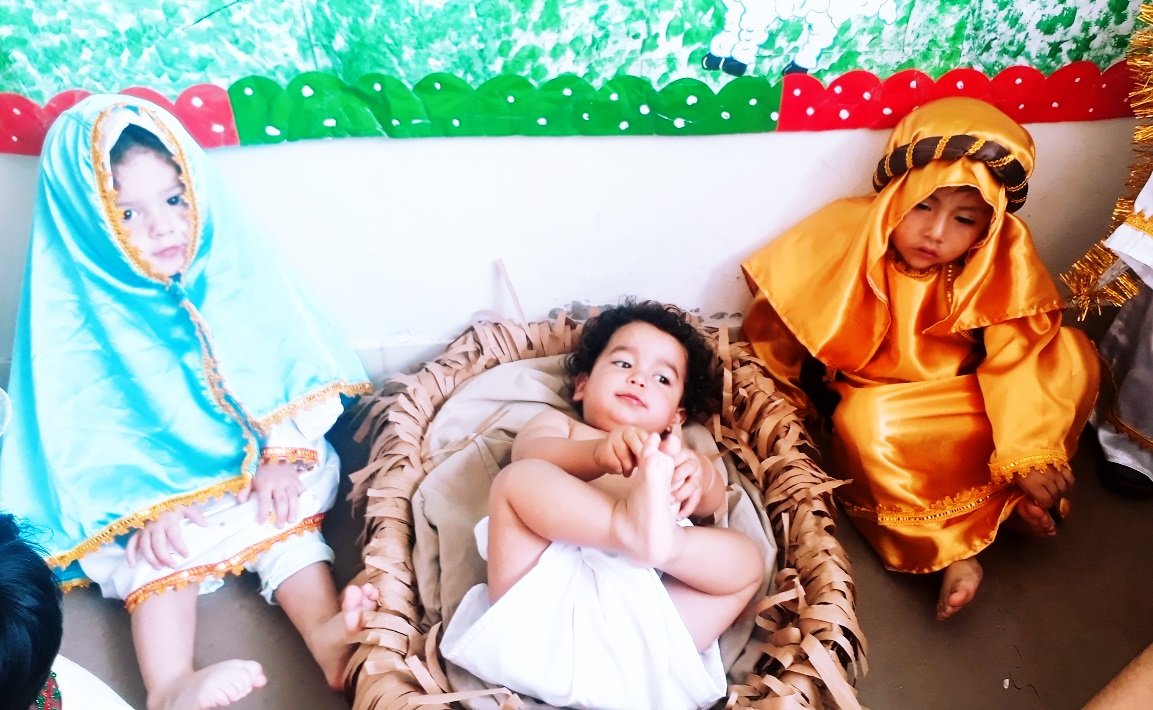 Mi hermana inscribió a mi sobrino en la guardería para poder trabajar, ella nos cuenta que las maestras le tienen mucho cariño a mi sobrino y él a ellas.
My sister enrolled my nephew in the nursery to work, she tells us that the teachers have a lot of love for my nephew and he for them.
Hoy mi hermana pensó que él estaría inquieto y que tal vez no iba a quedarse tranquilo en el pesebre, pero como pueden ver, él estaba fascinado.
Today my sister thought that he would be restless and that maybe he was not going to stay calm in the manger, but as you can see, he was fascinated.
Aunque no estuvimos allí, todo se ve que quedó muy bien, los niños quedaron muy bonitos y el escenario quedó chévere, nosotros le enviamos felicitaciones a las maestras por su excelente trabajo.
Although we were not there, everything looks very good, the children were very nice and the scenery was cool, we sent congratulations to the teachers for their excellent work.
---
Todas las fotos fueron tomadas con el teléfono de mi hermana en Lima-Perú.
All the photos were taken with my sister's phone in Lima-Peru.
---