Uncategorized
[Esp-Eng] Nuestra cena de fin de año. / Our end of the year dinner.
Saludos amigos de steemit.
Greetings steemit friends.
Feliz año 2020 a todos. Les deseo un año lleno de bendiciones, salud y prosperidad.
Happy 2020 year to all. I wish you a year full of blessings, health and prosperity.
Quiero compartir con ustedes, fotos de nuestra cena de fin de año. Este año la pasamos en casa de mis padres. Antes venian mis hermanos y algunos tios y primos, pero mi hermana está en Perú y mi hermano se quedó en su casa porque mi cuñada tiene pocos días de estar operada.
I want to share with you, photos of our end of the year dinner. This year we were at my parents' house. Before, come my brothers and some uncles and cousins, but now my sister is in Peru and my brother stayed at home him because my sister-in-law has few days of being operated.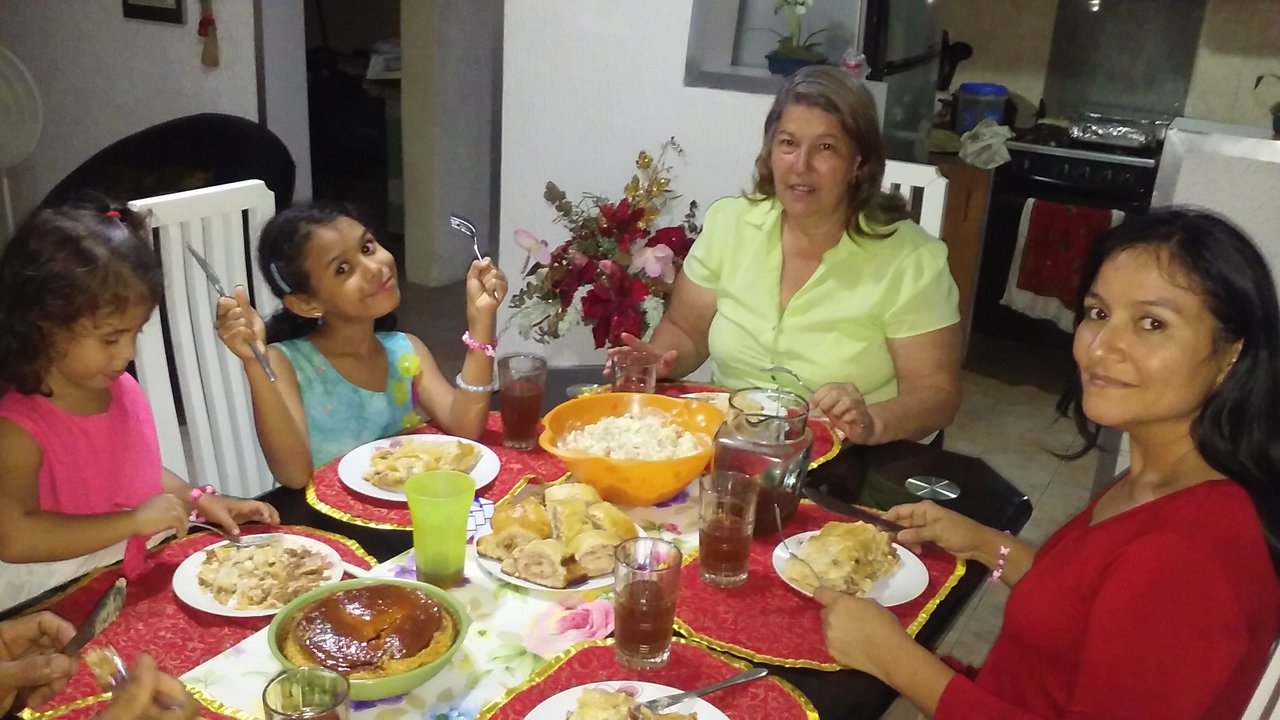 My daughters, my mom and me
A pesar de que el 2019 fue un año fuerte para los venezolanos, agradecimos a Dios por permitirnos reunirnos y compartir nuestra cena de fin de año, así pudimos disfrutar un rico pasticho hecho por mi mamá (es como lasaña), ensalada y pan de jamón, además pudimos preparar torta y quesillo.
Although 2019 was a strong year for Venezuelans, we thanked God for allowing us to have and share our end of the year dinner, so we could enjoy a delicious pasticho made by my mom (it's like lasagna), salad and ham bread In addition we were able to prepare cake and quesillo.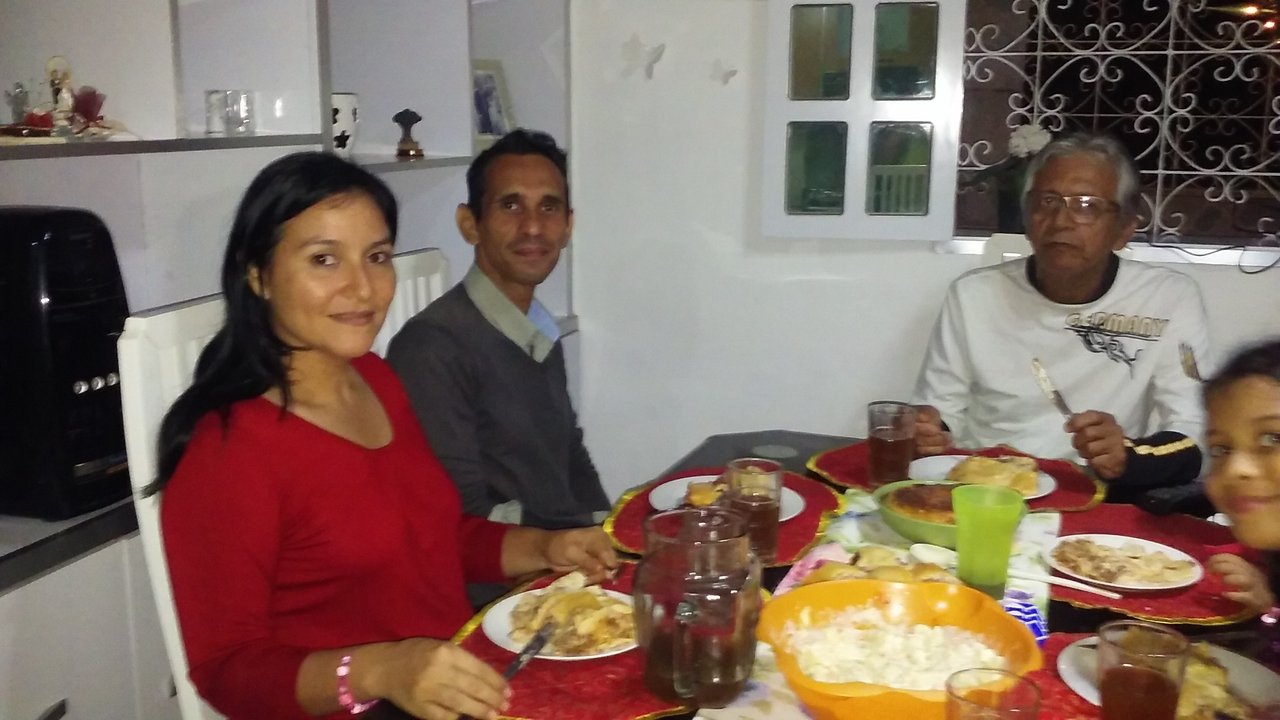 My husband, my dad and my daughter.
Antes de las 12, nosotros hacemos una oración primeramente dando gracias a Dios por todo lo que nos dió, nos protegió, nos guió y ponemos en sus manos el nuevo año que está por empezar, colocamos nuestros proyectos y nuestras vidas.
Before 12 midnigth, we pray firstly thanking God for all that he gave us, protected us, guided us and we put in his hands the new year that was about to begin, we place our projects and our lives.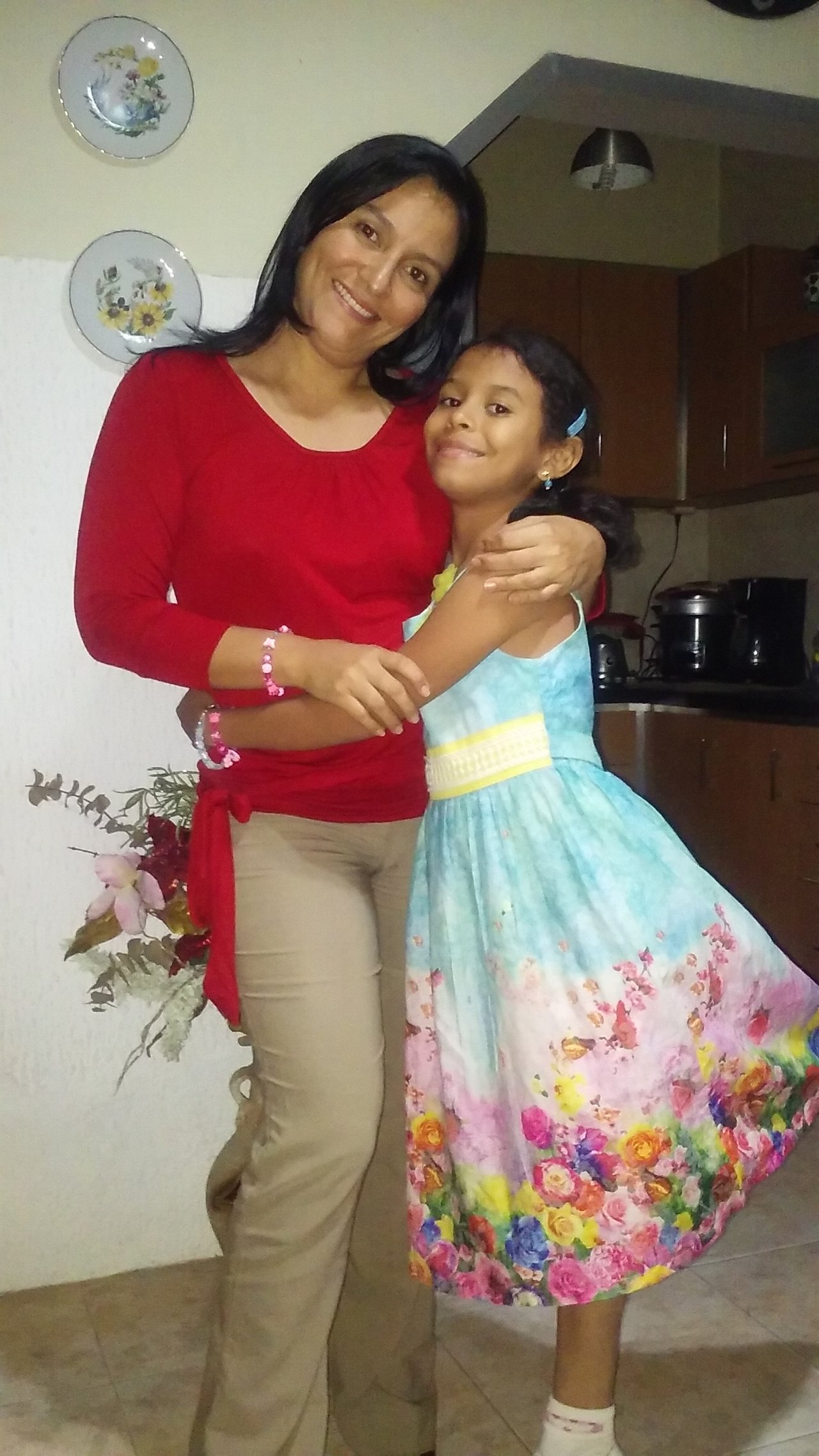 My daughter @kathe-art and me.
Y ahora con fe y esperanza en que el 2020 nos traerá cosas buenas y que este año definitivamente tiene que ser mejor que el 2019, porque comenzamos una década nueva, les deseo éxitos en todo lo que emprendan y se propongan, recuerden que el esfuerzo es la mejor herramienta, y nunca olviden poner todo en las manos de Dios.
And now with faith and hope that 2020 will bring us good things and that this year definitely has to be better than 2019, because we start a new decade, I wish you success in everything you undertake and propose, remember that the effort is the best tool, and never forget to put everything in the hands of God.
---
Todas las fotos fueron tomadas con el teléfono LG Risio
All the photos were taken with LG Risio cellphone
---