Uncategorized
We are God's darlings – Somos los consentidos de Dios.
Greetings friends and brothers,
Today when I opened the bible, the reading was in Psalms 8, with which I have always felt identified because every time I see the sky and the beauty that it presents us every day, or when I delight at night looking at the stars and the moon, at that moment I feel God there by my side listening to thank him for allowing me to see his creation.
Hoy al abrir la biblia, la lectura fue en salmos 8. Tenía tiempo que no leía este hermoso capítulo, con el cual siempre me he sentido identificada porque cada vez que veo el cielo y la hermosura que nos presenta cada día, o cuando me deleito por las noches viendo las estrellas y la luna, en esos momento siento a Dios allí a mi lado escuchandome darle gracias por permitirme ver su creación.
When I publish a photograph of flowers or of sunrise or sunset, they may think that my words are the same, because I do not stop mentioning that it is a gift from God to brighten our eyes, and I feel that way because he did it all for us.
Cuando yo publico alguna fotografía de flores o de amanecer o atardecer, tal vez pensaran que mis palabras son las mismas, porque no dejo de mencionar que es un regalo de Dios para alegrarnos la vista, y es que así lo siento porque todo él lo hizo para nosotros.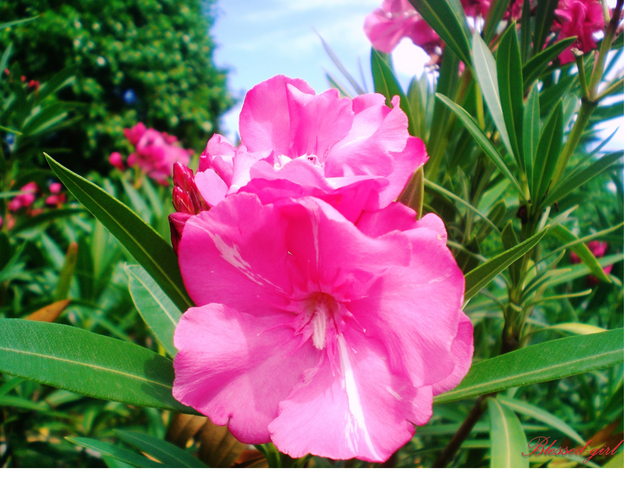 I enjoy these details every day, I enjoy that creation that He has made for us, because as Psalm 8 says, God has made us to rule over all of his creation and everything that He has created is «for us» .
Disfruto cada día de esos detalles, disfruto esa creación que Él ha hecho para nosotros, porque tal como dice el salmos 8, Dios nos ha puesto para señorear sobre toda su creación y todo lo que Él ha creado es «para nosotros y por nosotros».
---
---
Salmos 8
1 !!Oh Jehová, Señor nuestro,
Cuán glorioso es tu nombre en toda la tierra!
Has puesto tu gloria sobre los cielos;
2 De la boca de los niños y de los que maman, fundaste la fortaleza,
A causa de tus enemigos,
Para hacer callar al enemigo y al vengativo.
3 Cuando veo tus cielos, obra de tus dedos,
La luna y las estrellas que tú formaste,
4 Digo: ¿Qué es el hombre, para que tengas de él memoria,
Y el hijo del hombre, para que lo visites?
5 Le has hecho poco menor que los ángeles,
Y lo coronaste de gloria y de honra.
6 Le hiciste señorear sobre las obras de tus manos;
Todo lo pusiste debajo de sus pies:
7 Ovejas y bueyes, todo ello,
Y asimismo las bestias del campo,
8 Las aves de los cielos y los peces del mar;
Todo cuanto pasa por los senderos del mar.
9 !!Oh Jehová, Señor nuestro,
Cuán grande es tu nombre en toda la tierra!
Psalm 8.
1 Lord, our Lord,
how majestic is your name in all the earth!
You have set your glory
in the heavens.
2 Through the praise of children and infants
you have established a stronghold against your enemies,
to silence the foe and the avenger.
3 When I consider your heavens,
the work of your fingers,
the moon and the stars,
which you have set in place,
4 what is mankind that you are mindful of them,
human beings that you care for them?[c]
5 You have made them[d] a little lower than the angels[e]
and crowned them[f] with glory and honor.
6 You made them rulers over the works of your hands;
you put everything under their[g] feet:
7 all flocks and herds,
and the animals of the wild,
8 the birds in the sky,
and the fish in the sea,
all that swim the paths of the seas.
9 Lord, our Lord,
how majestic is your name in all the earth!
---
---
And even though He made us smaller than angels, we are very special and important to God, that's why He cares for us, that's why He is there always when we need it, when we want to talk to Him, He is there to listen to us Yours sincerely and to protect us from danger.
Y a pesar de que Él nos hizo más pequeños que los ángeles, somos muy especiales e importantes para Dios, por eso Él cuida de nosotros, por eso Él está allí siempre cuando lo necesitamos, cuando queremos hablar con Él, Él está allí para escucharnos atentamente y para protegernos del peligro.
Sometimes I say (very personally), we are God's darlings and I really believe so.
A veces digo (muy personalmente), nosotros somos los consentidos de Dios y realmente así lo creo.
Happy weekend to all.
Feliz fin de semana para todos.
References – Referencias:
New interntional version Bible
Biblia versión Reina Valera 1960