Uncategorized
[Eng-Esp] Pampering my # 7 family. Golfeados. – Consintiendo a mi familia # 7. Golfeados.
Greetings friends,
Saludos amigos.
Yesterday afternoon, I prepared some golfeados. For those who do not know, the golfeados, are sweet bread in the form of roll that are smeared with papelón and cheese, this is what makes them special, the mixture of sweet and salty, a unique and spectacular flavor.
Ayer por la tarde preparé golfeados. Para los que no saben, los golfeados, son panes dulces en forma de roll a los que se les unta papelón y queso, esto es lo que los hace especial, la mezcla de dulce y salado, un sabor único y espectacular.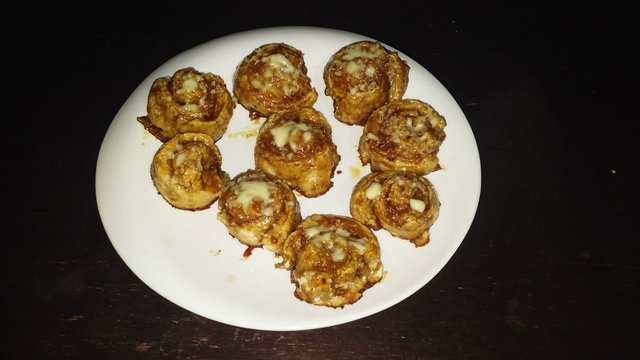 Since December I have wanted to prepare golfeados but never had all the ingredients. Yesterday I finally had all the ingredients, but I had not them in large quantities, so I made only 9 golfeados. I will indicate the ingredients that I used for this number of golfeados, if you want to do more you can double or triple the ingredients.
Desde diciembre tenía ganas de preparar golfeados pero nunca tenía todos los ingredientes. Ayer por fin tenía todos los ingredientes, pero no los tenía en gran cantidad, así que preparé sólo 9 golfeados pequeños. Les indicaré los ingredientes que utilicé para esta cantidad de golfeados, si desean hacer más pueden duplicar o triplicar los ingredientes.
Ingredients.
200 grams of wheat flour.
25 grams of sugar.
100 ml of water.
1 tablespoon of yeast
1 tablespoon of milk powder.
1 tablespoon of oil.
1 teaspoon salt.
¼ papelón.
1 cup of water to melt the paper.
Vanilla.
Ingredientes.
200 grs de harina de trigo.
25 gramos de azúcar.
100 ml de agua.
1 cucharada de levadura.
1 cucharada de leche en polvo.
1cucharada de aceite.
1 cucharadita de sal.
¼ papelón.
1 taza de agua para derretir el papelón.
Vainilla.
Preparation.
Mix all the dry ingredients, then add the liquid ingredients and knead until the dough comes off the hands. We let it raise for about 2 hours.
Preparación.
Mezclamos todos los ingredientes secos, luego agregamos los ingredientes líquidos y amasamos hasta que la masa se despegue de las manos. Dejamos que leve aproximadamente por 2 horas.
When the dough has doubled in size, roll out the dough with a rolling pin. In 1 cup of boiling water we melt the papelón, we wait for it to cool and spread the stretched dough with the melted papelon and we also add grated papelon and grated cheese (they will be the filling of the rolls).
Cuando la masa ha duplicado su tamaño, estiramos la masa con un rodillo. En 1 taza de agua hirviendo derretimos el papelón, esperamos que se enfríe y untamos la masa estirada, con el papelón derretido y además le agregamos papelón rallado y queso rallado (este será el relleno de los roles).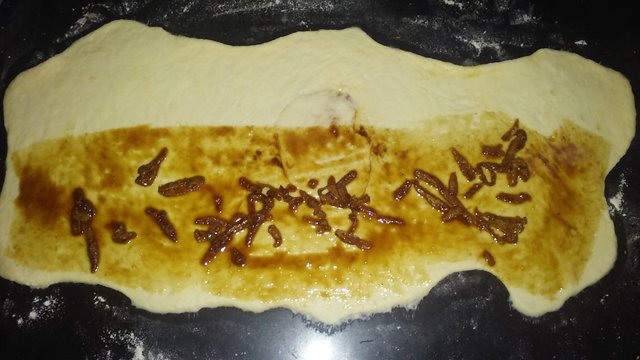 Then we proceed to roll the dough and cut it into equal pieces about 2 fingers wide.
Luego procedemos a enrollar la masa y la cortamos en pedazos iguales de aproximadamente 2 dedos de ancho.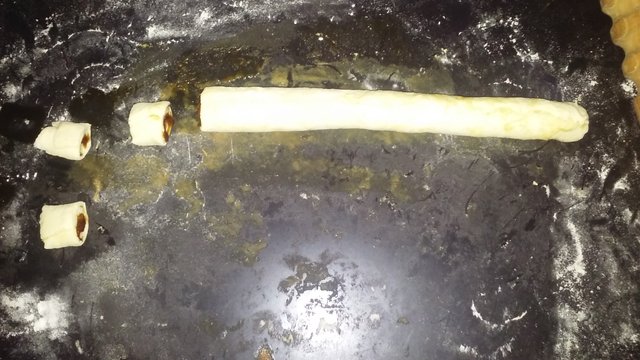 We let the rolls take about 1 hour to double their size to put them in the oven for about 15 minutes.
Dejamos que los rolles leven aproximadamente durante 1 hora hasta que dupliquen su tamaño para meterlos en el horno por aproximadamente 15 minutos.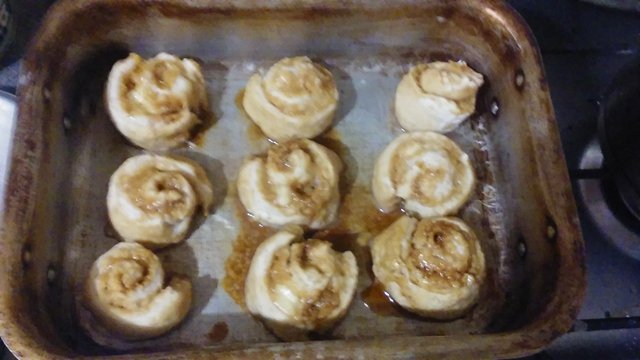 We take them out of the oven without turning it off. We add the rest of the melted papelon on top of each roll, we place grated cheese or a slice of cheese on top and we put it back in the oven and leave it for about 10 more minutes.
Los sacamos del horno sin apagarlo. Le agregamos el resto del papelón derretido por encima de cada roll, les colocamos queso rallado o una rebanada de queso por encima y volvemos a meterlo en el horno y se deja aproximadamente 10 minutos más.
Ready! They are delicious. They will really like it if they decide to prepare them.
¡Listo! Son una delicia. Realmente les va a gustar si deciden prepararlos.